What is it called in different languages?
Sanskrit: bilva
Tamil: pazham
English: wood apple/ bael
Telugu: maredu phalam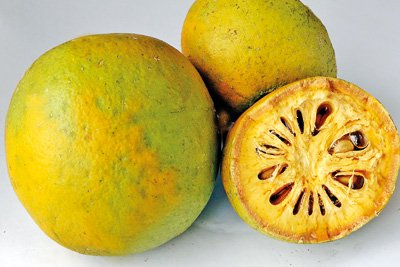 About bael fruit: The botanical name of bael fruit is Aegle marmelos. This fruit looks similar to Limona acidissima but these both fruits differ in color, taste and properties. The bael fruits are hard externally and does not split on ripening. Bael tree is believed as the favourite tree of Lord Maha Shiva. Bael leaves, fruits are a major part while worshiping Lord Shiva. It is a rich source of vitamin C, B1, B2, beta-carotene, riboflavin, protein, thiamine, niacin, antioxidants and minerals like potassium, calcium.
Benefits:
– Protects bone health
– Acts as a body coolant
– Energy booster
– Reduces digestive problems, ulcers
– Increases hemoglobin count in blood
– Prevents risk of heart diseases
– Lowers risk of infections, bacterial diseases
– Controls cholesterol
– Good for diabetic patients
– Cures scurvy
– Enhances skin health
Uses:
– You can make refreshing drink (sharbat) –https://youtu.be/9IlS6UdFJmo
– Can make chutney – https://youtu.be/GRArOWeV-os
– You can make smoothie –https://youtu.be/UBuKf2ajo0U
– Can make jam –https://youtu.be/HT7F_UNfkUA
– You can make halwa –https://youtu.be/aBSz5ySRkIY
– Can make ice cream – https://youtu.be/j-zckObwWFY
– You can make spicy dish (chat recipe) –https://youtu.be/SOoW1Y91TxE