What is it called in different languages?
English: bamboo shoot
Telugu: veduru chiguru
Kannada: baimbale/ kanile
Hindi: banus
Bengali: bansber ankur
Tamil: moongli kuruthu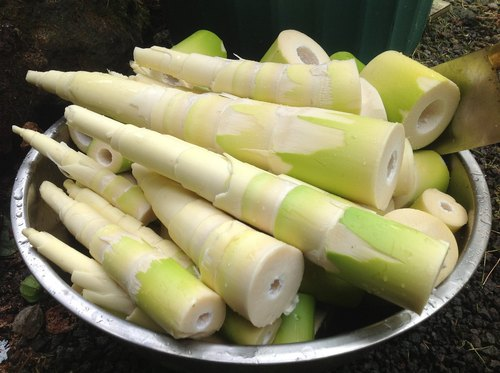 About bamboo shoots: Bamboo shoots are delicious and are mostly found in states like Assam, Arunachal Pradesh, Nagaland, Manipur, Jharkhand, Karnataka (in India). In ancient medicinal texts, bamboo shoots are termed as 'The Poor Mam's Timber' and 'The Green Gold' as it has many therapeutic properties. Bamboo shoots are rich in proteins, fiber, vitamin A, E, B6, thiamine, riboflavin, calcium, magnesium, zinc, copper.
Benefits:
– Boosts immunity
– Acts as anti venomous
– Protects urinary health
– Regulates blood sugar levels
– Aids in weight loss
– Protects heart health
Uses:
– You can make curry –https://youtu.be/BsQgBHEpTxo
– Can make fry –https://youtu.be/I4OkHTvQN-I
– You can make cutlet –https://youtu.be/-Y4ZqKlb_QQ
– Can make pickle –https://youtu.be/XKrhFZAsiHg