What is it called in different languages?
Telugu: bhu-thulsi ginjalu/ sabja ginjalu
Tamil: Thirneetru Patchai Vithai
Kannada: kamakasturi
Bengali: tulasi bija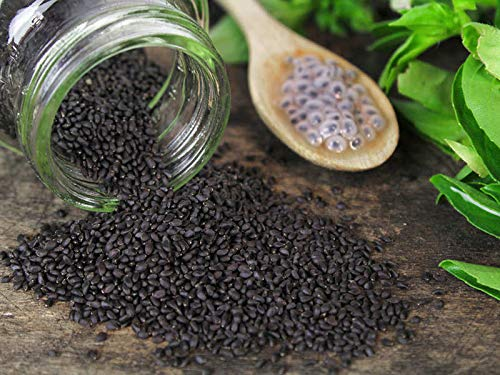 About basil seeds: The botanical name of basil is Ocimum basilicum. These seeds have a common name as Sabja seeds. They are black seeds that look similar to chia seeds. Basil seeds are also referred to as sweet basil as they are commonly used to season food. These seeds are a great source of calcium, magnesium, iron, fiber, omega-3 fatty acids. Basil seeds are native to India.
Benefits:
– Aids in weight loss
– Controls blood sugar levels
– Relieves constipation
– Treats acidity
– Good for hair and skin health
– Cures cough and cold
Uses:
– You can add this to any of your juices or just drink it as it is.
– You can make pudding –https://youtu.be/PkDg4bOuomE
– Can make drink –https://youtu.be/leTGGO_nDMk
It is important to soak seeds before consuming