What is it called in different languages?
English: betel leaf
Malayalam: vettila
Telugu: tamalapaaku
Hindi: paan
Bengali: punj
Tamil: vettrilai
Kannada: veeleyadelae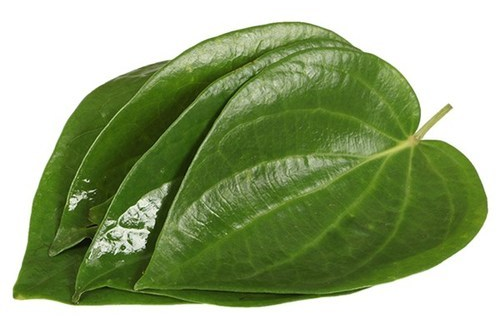 About betel leaves: The scientific name of betel leaves is Piper betel. Betel leaves belong to the Piperaceae family, they are a rich source of vitamin C, thiamine, niacin, riboflavin and carotene. Betel is an aromatic creeper plant. They are generally used in prayers, religious ceremonies in India. Betel leaves possess anti-bacterial, anti-protozoal, anti-fungal properties.
Benefits:
– Treats diabetes
– Heals wounds
– Prevents constipation
– Improves digestion
– Reduces respiratory issues
– Prevents fungal, bacterial diseases
– Reduces headache
– Prevents premature graying of hair, hair fall
– Cures common cold
Uses:
– You can make betel leaf rice –https://youtu.be/Ha8Fu0zDEuA
– Can make rasam –https://youtu.be/weWDNnBtEoI
– You can prepare chutney   –https://youtu.be/Udq3EW41k1E
– Can make ice-cream –https://youtu.be/jyG746vURcI
– You can make sweet (laddo)- https://youtu.be/ltrVr-8cHKc
– Can make health drink –https://youtu.be/6cHb3DreNqw
– You can make chutney powder –https://youtu.be/jDLpxIeFi-U
– Can make snacks –https://youtu.be/q1H8PsQLQhM