What is it called in different languages?
Sanskrit: Parijat/ Shefali
English: night jasmine
Telugu: Parijatham
Tamil: manjhapu/ pavala malligai
Kannada: goli/ harsing
Bengali: harsinghar, sephalika
Marathi: kharbadi/ kharassi
Hindi: harsinghar/ seoli/ sihau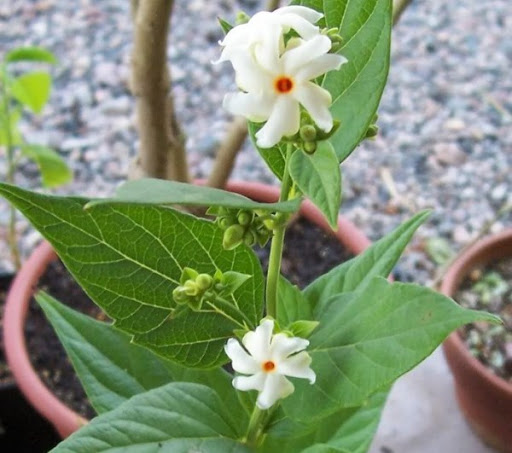 About Parijatham: Parijatham is a flowering plant of ornamental and medicinal value. The other common names of Parijatham are the tree of sorrow, Raat ki rani, night-blooming jasmine, and harbinger. It has numerous health benefits. According to Indian mythology, Parijatham is a tree from heaven. You can find the mentions of Parijatham in BHAGWAT GITA and HARIVAMSA PURANA. The special feature of this tree is that it only blooms at night and sheds all its flowers in the morning. The leaves of Parijatham are a good source of benzoic acid, fructose, glucose, carotene, amorphous resin, tannic acid, oleanolic acid, and flavanol glycosides. The flowers of Parijatham contains essential oils and glycosides. The flowers and leaves have anti-fungal and anti-viral properties.
Benefits:
– Cures bacterial, fungal and viral infections
– Treats fever, cough, and cold
– Boosts immunity
– Reduces anxiety
– Heals wounds and fractures
– Good for skin health
– Improves hair growth
– Controls blood sugar levels
– Provides relief from dengue and chikungunya
– Treats arthritis
Uses:
– You can make face packs as a remedy to skin problems
– Dried flowers and dried leaves of Parijatham has its use in cuisine
– You make a dandruff remedy by using seeds of Parijatham
– The flowers are used to make yellow dye for clothes and incense sticks
– You can make health drink –https://youtu.be/H1yqUvYel-w
– You can make snacks using leaves of Parijatham leaves –https://youtu.be/dHaX1F1Z1RE
** It is advisable to consult your doctor if you are taking it internally.