What is it called in different languages?
English: banana stem
Tamil: vazhai thandu
Telugu: davva/ dindu
Kannada: baalle dindu
Marathi: gaboo
Malayalam: unnipindi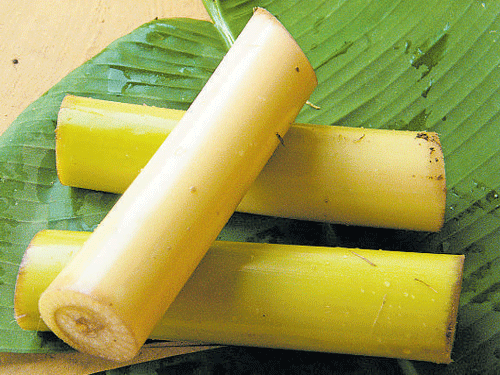 About banana stem: Banana stem holds a special place in the gastronomic history of India. In West Bengal and South India, banana stem is a popular vegetable. Banana stem helps to lead a fit and fuss-free life. It's a rich source of fiber, potassium, vitamin B6. The inner core of the banana stem is eaten after peeling off the outer layer.
Benefits:
– Aids in weight loss
– Treats kidney-related diseases
– Detoxifies the body and prevents infections
– Reduces cholesterol levels
– Heals acidity problems
– Prevents constipation
– Good for diabetic patients
– Keeps you hydrated
– Helps in maintaining hemoglobin levels
Uses:
– You can make juice –https://youtu.be/dEWj-UidtC4
– Can make fry –https://youtu.be/Oygjekf3E-k
– You can make cutlet –https://youtu.be/e-E4ocgXT2k
– Can make soup- https://youtu.be/ny7kcGAu4xs
– You can make curry –https://youtu.be/XnZ8YPy1rME
– Can make dosa –https://youtu.be/RuZDphL50DI