What is it called in different languages?
English: green banana/ cooking banana
Telugu: arati kaya
Tamil: vazhakkai
Kannada: hasiru bale hannu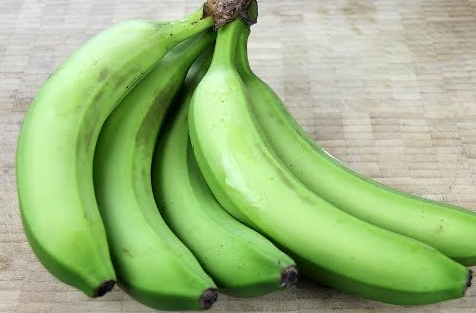 About cooking banana: The other common names are green bananas, raw bananas. Green bananas are rich sources of vitamin C, B6, potassium, dietary fibers. They are full of fiber which are helpful for people with IBS and constipation. They can be steamed, boiled, fried, batter- mashed, curried.
Benefits:
– Protects heart health
– Aids in weight loss
– Facilitates absorption of essential minerals
– Good for diabetic patients (since raw bananas have low sugar content)
– Regulates cholesterol levels
– Reduces tummy related problems
– Prevents constipation
– Strengthens bones
– Acts as a good anti-oxidant
Uses:
– You can make curry –https://youtu.be/sHzoiZAy5qw
– Can make fry –https://youtu.be/lyI6I-GAE0w
– You can make bajji (snack recipe) –https://youtu.be/LJU_hwCbf_4
– Can make chips –https://youtu.be/IWuj_wpiEGA
– You can make kebab –https://youtu.be/D2fu6CpxVjw