WHAT IS IT CALLED IN DIFFERENT LANGUAGES?
English: Papaya
Telugu: Boppayi pandu
Hindi: Papeeta
Marathi: Papai
Bengali: Papita
Kannada: Pappayi hannu/ Parangi
Malayalam: Omakaya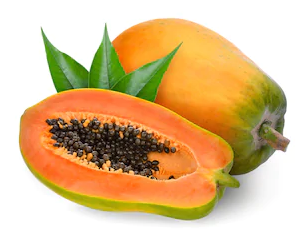 ABOUT PAPAYA: Papaya is a soft, fleshy fruit. It tastes sweet. It provides many health benefits. Zeaxanthin is the antioxidant present in papaya which enhances eye health. Papayas are rich sources of vitamin C, folate, magnesium, copper, vitamin A, pantothenic acid, fiber, and some amounts of B vitamins. People with "latex allergy" are advised not to consume this fruit as it might cause them allergic reactions.
BENEFITS:
– Regular consumption of papaya reduces the risk of asthma and cancer.
– It enhances bone health.
– Papaya prevents constipation as it contains an enzyme called "papain"
– This fruit helps to ward off heart disease.
– Reduces chronic inflammation
– Heals skin (when applied directly shows you good results)
– It is also great for hair as it contains vitamin A.
USES:
– Papaya has its use in cosmetic and pharma industry
– You can make juice/smoothies – https://youtu.be/YvigbWf37uo
– Can make salads – https://youtu.be/9hOGy8FMB-0
– You can make papaya sweet –https://youtu.be/1b7GF5e5BQ0
– Can make papaya pudding –https://youtu.be/oipAQubRDrY
– You can make raw papaya curry –https://youtu.be/twPYwh5IpZE