What is it called in different languages?
English: tapioca pearls
Hindi: sabudana
Telugu: saggu biyyam
Tamil: javvarisi
Malayalam: chavvari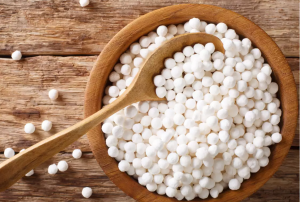 About sabudana: Sabudana is made from tapioca sago (tapioca sago is a starchy substance obtained from cassava root). It is a rich source of carbohydrates, calcium, fiber, iron, magnesium. Sabudana is used in Indian cooking for making numerous recipes and also for making traditional dishes during festive times like Navaratri, Diwali.
Benefits:
– Regulates blood pressure levels
– Promotes fetus growth in pregnant women
– Gives energy
– Relieves from constipation
– Improves bone health
– Helps in weight gain
Uses:
– You can make vada –https://youtu.be/Ley7gHw425s
– Can make kichadi –https://youtu.be/Sboyf70QR9A
– You can make vadiyalu (chips) –https://youtu.be/Igk73xwLNq8
– Can make keer –https://youtu.be/ZI2OecT2FMg
– You can make paratha –https://youtu.be/Y8G4FN_iSlc
– Can make pancakes –https://youtu.be/DgWKF5pOU1A